The True Purpose Behind School Sports
It's clear that when your children are involved in school sports, it's likely they will develop their athletic skills, improve coordination, and build muscle.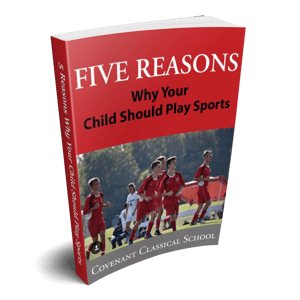 However, participating on an athletic team can also be a wonderful opportunity for children to learn cooperation, respect, discipline, and selflessness.
Encouraging your children to be involved in athletics is a powerful opportunity for them to mature their character and use their mind and body to bring glory to God.
Download our free eBook, "5 Reasons Why Your Child Should Play Sports" to learn several benefits that come with involvement in a school sports program and how athletics can help develop the whole student.
This eBook will answer the following questions:
What does it mean to be on a team sport?
What life shaping opportunities can athletic programs provide?
Can athletics really promote essential life skills and benefits?
Feel free to share this resource to a family or friend who might be interested.