How to Apply
Ready to enroll your child in our vibrant learning community? Schedule a tour at this link. Application steps and guidelines can be DOWNLOADED HERE. An application packet will be provided on your tour. You can also click HERE to download an application prior to your visit.
Once we receive your child's application for admission including supplemental forms and testing, the office will call you to schedule a parent interview and visit. Both parents/guardians are required to attend the parent interview. For more information, please contact our office at (704) 792-1854.
Admission Standards
Covenant Classical School is, in essence, an expression of the commitment of a body of parents to provide the best possible training and instruction for their children. Our mission is to instill in each student a love for truth, wisdom, discernment and learning through the use of excellent materials, in an orderly setting, founded on a growing personal knowledge of the Lord Jesus Christ. As a discipleship school, we require that at least one parent or guardian of each applicant give a credible profession of faith in Jesus Christ as Lord and Savior, and be a regular attendee or member of a Christian church.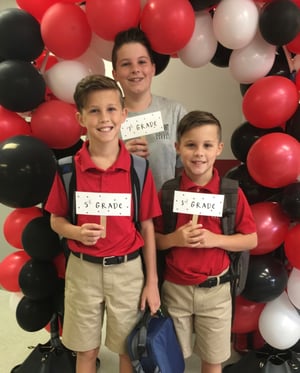 Students seeking admission are evaluated on the basis of their report cards, references, admission questionnaires, screenings, interviews, and potential to perform satisfactorily at Covenant Classical School.
We are not equipped with the resources required to serve children who are seeking to be admitted into special educational programs. Students who seek admission directly following suspension, expulsion or behavior problems from another school will not be accepted until they prove themselves elsewhere.
Students with less than a "C" average in their primary academic subjects may have difficulty in attaining a satisfactory level of academic achievement. The first quarter is considered a trial period for all new students.