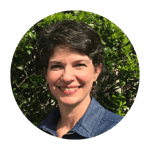 As I was talking with my sons on the way home from school, my younger son exclaimed, "I'm so glad we found Covenant Classical!"
As a parent and a former teacher here, I can say the same thing. I am so grateful my children and I can come to a school that academically challenges students and teaches them to be life-long learners. More importantly teachers engage their students and help them define their faith in Christ through their studies and conversations. Other rich blessings are the relationships with peers, teachers, and other families that are nurtured in and out of school.
In a culture that is changing rapidly to an apathetic attitude toward the Truth, our children at CCS are being equipped to understand God's world and Word, know Him better, and defend their faith in an absolute yet loving way toward others.
I echo my son's statement that I am so happy we found Covenant Classical and honored to serve this school.
Dawn Russell
Assistant Head of School