Co-Heads of School Jane Dearing and Stephanie Prince took over the leadership of Covenant Classical School in 2016. They were kind enough to answer several questions to give the community insight into their style of leadership and vision for the school's future.

Jane graduated from Christopher Newport of the College of William and Mary with a Bachelor of Science Degree, and her course studies included emphasis in elementary education, history, and administration. She has 20 years of teaching experience and school administration. In addition to receiving the Excellence in Teaching Award, she has held various leadership positions including Dean of the Logic School and Dean of Administration and Student Affairs. She has compiled systematic language arts programs and designed an integrated English/history humanities curriculum. All four of her children graduated from CCS.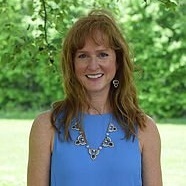 Stephanie attended a classical school in Virginia and later graduated Summa Cum Laude from Salem College with a degree in English and Communications, and a minor in psychology. She also obtained an M.A. in Marriage and Family Therapy from Syracuse University. When her children were born, she homeschooled and tutored in the local Classical Conversations program. Before her appointment as Co-Head of School, she taught third and fourth grade at CCS.
(Jane's responses are in black; Stephanie's in red.)
How does the leadership of Covenant Classical work?
Jane: Two Heads of School is an innovative model which incorporates the skill set of two people and lessens work burnout by job sharing. We are both well acquainted with every aspect of the job, but our individual strengths are utilized. For example, Stephanie is well suited to help faculty, parents, and students deal with root issues and conflict resolution. I, on the other hand, am more natural at planning budgets, curriculum research, and upper school academics.
Stephanie: Jane and I vision cast and create together 5 days a week (even if one of us is not on campus) on all aspects of mission, vision, and the key categories of day-to-day operations, which include policy, school culture, faculty decisions and care, and enrollment decisions We work two days a week together and rotate being at the helm the other days, while communicating daily. We co-lead our admin team once a week. Overarching all is prayer, seeking wisdom, guidance and discernment from the Lord.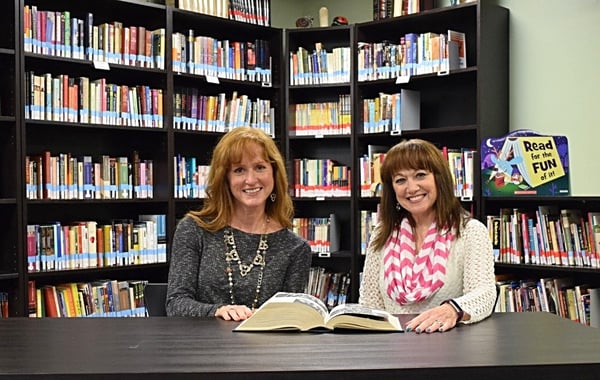 What do you like about working together?
Jane: The times we work together, although intense, are my favorite days. We support and encourage one another and have an uncanny tendency to be on the same page. I love Stephanie's humor. This job requires that we laugh and laugh often to preserve our sanity and not take ourselves too seriously. I love that Stephanie inspires me to always reach higher, to love people wholeheartedly, to consider their problems rather than just reacting to them, and first and foremost to seek God's direction in all things.
Stephanie: I'm continually struck by Jane's eloquence. And I appreciate that she's such a team thinker. She is willing and able to be flexible and cooperate with a new agenda or diverging route when wisdom calls for it. Plus, I love the fact that she's just so darn interesting. She is smart and well-read and has a frame of reference for so many things. She's extremely fashionable, which inspires me to up my game. She's so devout in her walk with Christ, an excellent example to me every day. I love that we're friends and can support each other.
What does it mean to be a Classical Christian School?
Stephanie: At CCS we start, unapologetically, with different goals than an institution of public education. A Classical Christian education is a traditional and time-honored approach rooted in western civilization and culture for centuries. It engages the seven liberal arts and the Great Books, and seeks to cultivate wisdom, virtue and eloquence in the student. Students develop the ability to think well and to communicate with clarity.
Tell us more about the kind of education students receive?
Jane: Students participate in Socratic teaching, debate, subject integration, and the capstone senior thesis project, which includes an oral defense. They study Latin, logic, rhetoric, math, science, and the humanities through a Biblical worldview. Overarching all is the emphasis on cultivating wisdom so students understand what God calls truth, goodness, and beauty.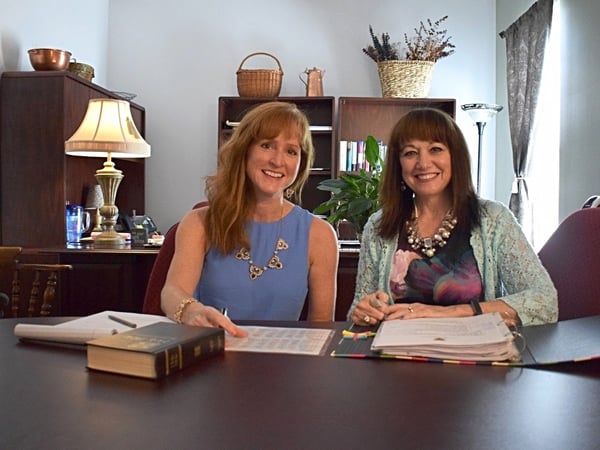 What are the biggest positives about having two heads of school
?
Stephanie: Sharing the load! It's invigorating and more fun than working alone. We brainstorm, problem solve and plan for the future together. Sharing in a common vision and mission, and thinking so similarly on many issues, is energizing and fulfilling. We laugh every single day.
Does having two leaders pose any problems?
Jane: Only minor ones. Occasionally, we forget to tell each other something important that happened on a day we were not working together, but that is rare. Sometimes we have miscommunicated and have both initiated actions slightly different, and one of us has had to retract.
Stephanie: Once in a while someone will prefer to talk to one or the other of us, and then we might second-guess as to why, but not often. Because we work hard to communicate about everything, we rarely operate in a redundant way on the same task. But occasionally we've forgotten something and have done that.
What have you been able to accomplish with two heads of school that might not have happened with one leader?
Jane: Support. We knew that in desiring to strengthen our stakes, change was imminent. And with change, often we encounter push back and resistance. It would have been difficult to implement some of these changes without the wholehearted strength that two leaders could bring to light, armed with ideas and approaches on how to carry out our vision. It is comparable to the strength of any unified and like-minded partnership.
What are you most proud of?
Jane: Our students and their response to our vision and the culture we hope to continue to hone at CCS. They are amazing kids, and we could not be more proud of the men and women they are becoming.
Stephanie: I'm thrilled that we will see a new building soon! But I'm most proud of our faculty and staff, because they pour out their talent, time and attention on our students in such a beautiful, tangible demonstration of Christ's love, day in and day out. They weave a lovely tapestry here: teaching, mentoring and encouraging our students, laughing with them, supporting them in their struggles and cheering for them in their victories, and always pointing them toward the life they can have in Christ. It's amazing to watch.
And, last, with school administration and leadership taking up so much of your time, how do you replenish yourselves?
Jane: It is certainly not my intention to give a pat answer, but I am in a place of complete dependency on the Lord. Therefore, sweet time in His presence for replenishment is a necessity, not an option. More than any other time in my life His word is truly a lamp unto my feet, and a light unto my path. Additionally, I thoroughly enjoy pulling away with my amazing family, who offers me fresh perspective in multiple areas. Moreover, long walks in all seasons with Don and good books refresh my soul.
Stephanie: Honestly, my constant fountain of refreshment is the Lord! One of the top ways I replenish is to spend time with Him early in the day, reading the Word and thinking on the fresh truths that He impresses on me regularly through the Scripture. I count on that quiet time in the morning when I pour out what's on my mind and heart to Jesus. He gives me the strength to face the day with peaceful enthusiasm, especially when I can't find it on my own. Besides that, I love taking nature walks with my husband, spending family time with our kids and grandson, cooking, traveling and, once in a while, getting a massage or a pedicure!